Consulting Services
The consulting services we offer clients fall into several inter-related areas.  However, they can be broadly divided into the two categories of 'structuring the work' and 'delivering the work'.
The 'structuring the work' concepts are based on the well known Biz4ge (we are a certified affliliate of the Biz4ge Network) website materials majoring on Target Operating Models (aka. Business Architecture) and Business Transformation.  Further detail is available below.
The 'delivering the work' elements draw heavily on a combination of well-known approaches and techniques such as Lean-Six-Sigma, Agile, BPR, Strategy Execution Management, portfolio management, programme & project management, stakeholder management, etc.  Again, more detail on these is provided below.
We tailor the precise combination of services we offer from our extensive toolkit.  We aim to pragmatically meet the specific circumstances and needs of each client from amongst the following based on our assessment of their requirements.
To aid us in this we often make use of our Opportunity Assessment Heatmap Survey tool.
It is a spreadsheet based tool, compatible with our Business Transformation and Target Operating Model approaches, that enables a rapid assessment of the likely areas of greatest opportunity in your organisation.  It works by quickly capturing, collating and reporting what your people already know about the state of your organisation!
(I) Structuring the Work

PROVEN 8-stage Business Transformation Roadmap – simplified to its essentials:
Conceive

– confirming your vision and strategy via methods like Repeatable Business Models and Business Canvases

Assess

– conducting feasibility studies, reviewing scenario options and establishing an overall business framework

Plan

– scoping and planning your delivery programme release(s)

Design

– accomplishing the detailed design work within the scope of a programme release

Build

– building and testing what you have designed and agreed

Run

– placing what you have built into operational service

Next Release

– detailed planning for the next planned programme release (as applicable)

Continuous Improvement

– further incremental refinements to ongoing operations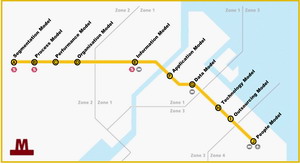 COMPREHENSIVE 10-layer baseline Target Operating Model as per our "Right First Time" Business Framework – preconfigured with accepted cross industry good practice as a point of departure for further tailoring as necessary:
Segmentation Model

– sorts your customers and value streams into like-for-like clusters and groupings to maximise effectiveness and efficiency

Process Model

– builds the top-level process model representation of your organisation

Performance Model

– chooses the key performance metrics by which you will judge the operational success of your organisation

Organisation Model

– constructs the top-level model that will monitor, govern and control the business; it also specifies the physical locations involved

Information Model

– defines the minimum information the top-level roles require

Application Model

– matches software applications, as applicable, to the areas of the business they will enable

Data Model

– ensures that the organisation's data will be consistent, coherent and accurate

Technology Model

– outlines what hardware, networks and other technical infrastructure will be required to support the business

Outsourcing Model

– specifies what aspects of the business will be operated in-house as opposed to those which will be outsourced to partners

People Model

– assesses the gap between the people and skills available to the organisation versus those it will need, and forms plans to bridge the gap
(II) Delivering the Work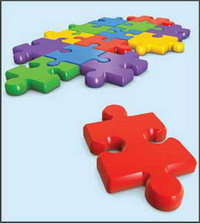 EXTENSIVE suite of Lean-Six-Sigma, Agile and BPR based Techniques and Approaches – choosing the best and most relevant approaches to meet the needs of every situation:
DMAIC

– a powerful analysis approach that seeks to Define, Measure, Analyse, Improve, and Control a problem area

Value Stream and Process Mapping

– techniques for mapping, understanding and improving the physical and information flows in an organisation

The '14 Wastes' Elimination

– a means of identifying the wasteful or non-value-add activities in an organisation so they can be targeted for elimination

Pulled Flow, Takt Time, Kanbans and JIT

– approaches for enabling the correct supply of the correct number of items at the correct time

The Glenday Sieve and Leveled Flow

– an approach to smoothing supply-side variations by directing demand-side requirements for products and services into the most efficient and effective production groupings

Group Technology Clustering and Hierarchies

– a means of sorting items (e.g. parts, machines) into like categories for purposes of operational effectiveness and efficiency

SPC / SQC, FMECA and Poka-Yoke

– approaches to investigating and assuring the quality of products and services

Workplace Layout, Visual Management and 5-S

– visual ways of working that are common 'hygiene' factors in well run shop-floor operations environments

Scrum

 – an iterative and incremental methodology for managing product/service development by defining a flexible, holistic strategy where a team works as a unit to reach a common goal

Sprint

– a single time-boxed iteration, against clearly defined incremental objectives, that is the basic unit of development in scrum

Other techniques and approaches as needs dictate

– the list of all possible techniques and approaches is much too long to enumerate here, those listed above are amongst the most commonly used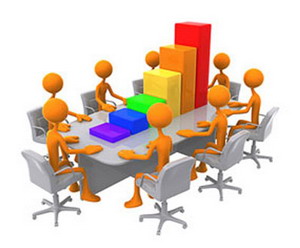 GOOD PRACTICE based enabling Methods and Tools –  the underlying enabling practices needed for organising change initiatives and which are intrinsic to their successful outcomes:
Repeatable Business Models

– a proven research based framework for establishing a sound vision and strategy for an organisation based on three simple sets of design principles:

establishment of a strong, well differentiated core business
clear non-negotiables understood and applied throughout the organisation
use of closed loop learning and continuous improvement techniques

Business Canvas

– a simple but highly effective and user friendly tool for teasing out and documenting key high-level elements of business vision & strategy

Strategy Execution Management

– the process of clarifying, deploying and achieving organisational initiatives; which at its heart it is about making sure that people understand what is expected of them, how they fit in,  what they need to do to move the organisation forward, and then actively helping them to be successful

Portfolio Management

– using formal criteria to decide whether or not to approve individual projects for execution dependent on both their individual merit and their fit with other existing and planned projects

Programme Management

– the governance, monitoring and control mechanisms employed to oversee and organise multiple projects, potentially as delivered in multiple releases

Project Management

– the governance, monitoring and control mechanisms employed to run individual projects and initiatives

Change Management

– the body of methods for managing behavioural and culture change amongst the stakeholders in a large and complex change initiative

Stakeholder Management

– the means of identifying and categorising stakeholders such that they are appropriately involved and their legitimate expectations and needs met

Communications Management

– the means of matching stakeholder categories to target audiences, messages, communication mediums, and frequency / detail-levels

Risks & Issues Management

– the means of proactively identifying, assigning ownership for, and tracking the mitigation or resolution of risks and issues

Business Case Management

– the method for identifying, capturing and agreeing the ROI and other beneficial outcomes anticipated from a common body of work (e.g. change programme) and then tracking their realisation over time

Standards & Conventions Management

– the means of ensuring the consistency, accuracy and integrity of the deliverables from a common body of work (e.g. change programme)
If you would like our views on a situation you are facing please Contact Us in confidence for a no-obligation discussion.