Strategic intent. Delivered.
KzA advises and assists the senior leadership teams of start-ups, SMEs/SMBs, mid-market, national and multinational organisations in the private, public and not-for-profit sectors. We help clients to accelerate their business results, especially at times when they are confronted with difficult strategic choices or challenges.
We work with our clients to improve, optimise and transform the performance of their organisations.  We achieve this by excelling at performance optimisation and transformational change, as driven by our proven approach to business transformation, and using well-known techniques and tools for strategy development and execution including:
Repeatable Business Models
Target Operating Models (aka. Business Architecture)
Lean-Six-Sigma
Agile
BPR
Strategy Execution Management
Our consultants are all skilled and experienced practitioners.  They are second to none in the expertise they can bring to bear in helping you manage your opportunities and challenges.
We are all especially passionate about the implications of the unique and innovative "Right First Time" Transformation Model (reference diagram below left, click to enlarge), as developed by the Biz4ge Network, which clearly exposes in overview why many major change initiatives fail to live up to organisational expectations.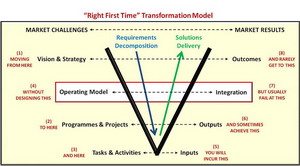 The model also points the way towards overcoming this common problem through the intelligent and thoughtful use of Target Operating Models as part of an overall approach to Business Transformation!
We employ our highly effective Business Transformation approach to optimising operational performance and the associated delivery of concrete results and outcomes.
Our definition of Business Transformation is:
"A key executive management initiative that attempts to coordinate and align the People, Process, Technology and Infrastructure initiatives in an organisation with its business vision and strategy so as to successfully meet and sustain its performance objectives."
Given the breadth and scope of what we do it is essential that we are able to work up, down and across organisational hierarchies extending from the shop-floor to the boardroom…..coordinating and integrating plans, activities and communications.
To accomplish this effectively we deploy and tailor the "Right First Time" Business Framework (reference diagram below right, click to enlarge), also as developed by the Biz4ge Network, to meet your specific requirements.
By doing so we can help you to: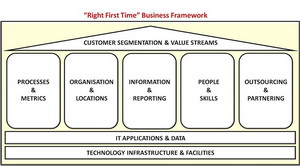 Coalesce, structure and clearly communicate your Performance Transformation vision.
Build a multi-dimensional Target Operating Model that clearly and explicitly defines and models future state changes, results and outcomes.
Select and use the most appropriate optimisation and improvement techniques and tools…..e.g. Lean-Six-Sigma, Agile, BPR, etc……to plan and structure the work.
Choose and implement the most appropriate enterprise software applications to enable and support your planned changes.
Ensure the correct governance and controls are in place to see your plans through to a successful conclusion, which can include deployment of Strategy Execution Management as a core organisational competence.
Our definition of a Target Operating Model (as referenced above) is:
"The coordinating framework of an organisation that documents and provides a common understanding of how the People, Process, Technology and Infrastructure capabilities and assets (existing or new) of the organisation will be structured and operate together so as to align with and achieve the objectives set out by its vision and strategy."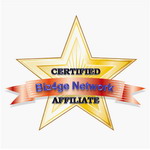 We are a certified affiliate of the Biz4ge Network and the related community of professionals who practice business transformation.  Many of our services and some of our network of associates derive from that respected source.
If your organisation is approaching a crossroads, and you want to understand why working with us rather than others might help you achieve your objectives more effectively, please see our Working Together page to get a sense of our values.