WORKING BUSINESS SOLUTIONS, NOT JUST ESOTERIC SOFTWARE!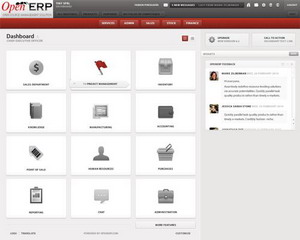 Our OpenERP based Software Solutions allow you to run a leading 'enterprise class' business application in a professionally hosted and secure managed environment.
We currently offer three predefined product plan sizings of our flagship "Baseline Solution":
Lite (from £139pm, ex-VAT)
Standard (POA)

Enterprise (POA)
With each of them you will benefit from the full software application, making use of preselected modules chosen for their features and robustness, along with these attributes of our Software Solution product range:
all products allow unlimited users
all products employ professionally managed hosting
all applications and data hosted on UK based servers
all access links employ full SSL security
all data is periodically backed up
all products include on request backup-restore
all instances are hosted in their own virtual machine and use their own database(s)
all products based on full Open Source software GPL / AGPL licenses
all products include 1 hours "Solution Help Desk Support" per month for 1 named user
all products qualify for an annual prepayment discount.  "Contact Us" for details
all products include the software and systems maintenance required to keep you running as per our "Terms of Service" SLAs unless otherwise agreed
We have by choice kept the number of items bundled with our Software Solutions, such as "Software Support", to a minimum.  We have done this both to keep our Software Solution prices competitive and to give you maximum control and flexibility over your support needs.
However, we strongly recommend you supplement the Software Solution choice(s) listed below with some of our "Software Support" and "Education & Training" offerings to ensure maximum productivity, effectiveness and business continuity protection for your organisation.
If your needs are more extensive (e.g. as for a Business Transformation initiative) than catered for by any of our predefined product offerings please consider the option of our Extended Solution as allied with our Professional "Services" for a more bespoke approach to meeting your business requirements.  Please "Contact Us" for more information on either.
NOTE that though all our products allow unlimited users each product plan is sized and priced against a certain fixed amount of computing resource.  To ensure that you choose the product plan most closely matched to your needs the following estimating advice applies:
'Lite' – sized for ~10 regular full time equivalent (FTE) users; or more casual users
'Standard' – sized for ~100 regular full time equivalent (FTE) users; or more casual users
'Enterprise' – sized for ~250 regular full time equivalent (FTE) users; or more casual users
To enquire about our predefined product plans and pricing, or to discuss any specific requirements you may have, please "Contact Us" and one of our team will be pleased to help you.
N.B. All prices and plans are subject to change without notice..

Unported License v3.0. open4mgt®. All Rights Reserved.